The ANK Style - Nylon Ankle Holster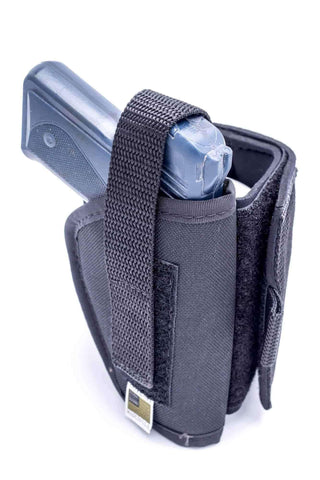 NANK31 · Nylon Ankle Holster
$ 21.99
$ 21.99
$ 21.99
Brand OUTBAGS USA
Enjoy FREE SHIPPING on standard orders! Your satisisfaction is guaranteed with free returns within 30 days of purchase.
Not the right size? Search by gun model to find a well-fitting holser.
More Details →
 OUTBAGS USA's nylon holsters, made of lightweight, top-grade nylon, offers the most versatility and flexibility of all our collections. With nine varieties to choose from, you can be sure your pistol will get a semi-custom fit with our nylon ankle holster.
MATERIALS
Our ankle holsters have strong Velcro-neoprene adjustable ankle straps that won't stretch over time like cheaper elastic straps. They're made to fit most calf and ankle sizes including 10-14" circumference lower legs. Our universal ankle holster also has an adjustable pistol strap to reduce slippage, and an inner lining to minimize wear on your gun's finish to ensure your gun is protected.
CARRY POSITION
Our universal ankle holster is mountable on either leg and positioned towards the draw hand — inside the left ankle for right-handed draw and inside the right ankle for left-handed draw. It also has a 10-15 degree cant for easier draw, as drawing from an ankle holster is by nature slower than waistband draw.
BENEFITS
Nylon is a great choice for an ankle holster, as it is affordable, weather-resistant, fast-drying, and easy to clean. Most people buy an ankle holster for use with a secondary weapon, but a universal ankle holster is also great for when you are wearing clothing that makes it impossible to carry anywhere else.
Check out our ankle holsters today and
contact us
for more information on military discounts and other special pricing options. If you have any questions, we are here to offer the advice or support you need. Shop with OUTBAGS USA today.