The L Style - Nylon IWB/OWB Combo Holster w/ Thumb Break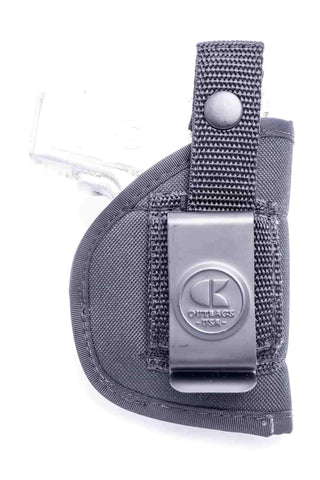 NL32 · TAURUS GX4 Nylon IWB & OWB Combo Holster
$ 12.99
$ 12.99
$ 12.99
Brand OUTBAGS USA
Enjoy FREE SHIPPING on standard orders! Your satisisfaction is guaranteed with free returns within 30 days of purchase.
Not the right size? Search by gun model to find a well-fitting holser.
More Details →
L Style Holster | IWB/OWB Combo
OUTBAGS USA's L Style IWB OWB combo holster is great for those who want the best of both worlds. These are designed to fit a variety of guns, but they are definitely not a generic, one-size fits all holster. With over 10 holster variations, we designed the L holster to ensure you get a semi-custom fit.
MATERIALS
We pride ourselves on delivering quality products without a massive price hike. We use nylon for our holsters because it is a durable, affordable material that's particularly versatile and flexible, as well as strong and light.
CARRY POSITION
Our IWB OWB combo holster comes ready for IWB carry, but can be changed easily to OWB. There is an adjustable thumb break snap strap, a removable belt clip that fits up to a 2" wide belt, and a belt loop (also for up to a 2" wide belt) on both sides.
BENEFITS
OUTBAGS USA's nylon hidden holster is durable enough for open carry, but streamlined for easy concealment. With a soft inner lining to minimize wear on the finish, you can rest easy knowing your gun is protected. Nylon is also easily cleaned and maintained, as it is weather-resistant and fast-drying.

We believe in our products and want to help you find the holster that is perfect for your needs. If you are looking for additional advice or support, contact us today with any questions or concerns. Try our IWB OWB combo holsters today and take advantage of our military discounts.