Full Grain Leather IWB Holster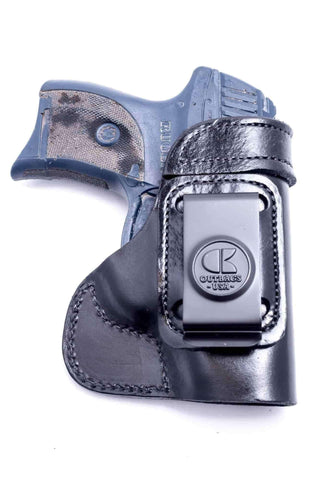 The LS3 - IWB Leather Holster
$ 25.99
$ 24.99
$ 24.99
$ 24.99
Brand OUTBAGS USA
Enjoy FREE SHIPPING on standard orders! Your satisisfaction is guaranteed with free returns within 30 days of purchase.
Not the right size? Search by gun model to find a well-fitting holser.
More Details →
Conceal Carry Leather Holster
OUTBAGS USA is committed to providing you a versatile selection of leather holsters that are made to fit over 100 varieties of gun. Available in black and brown for your convenience, we guarantee you a quality, affordable concealed leather holster carry solution.
MATERIALS
Each of our IWB holsters are handcrafted in California and made from hand-dyed full-grain leather. We cure and harden every holster with a custom mold to ensure it maintains its shape and protects the rustic character and excellent qualities of the leather.
CARRY POSITION
Our full grain leather holsters are for IWB carry only, and are the most preferred carry all year round. IWB leather concealed carry holsters hug the body tighter and look discreet even with normal clothing. These leather holsters are not for small-of-back carry, nor outside the pants – if you are looking for concealed leather holsters for OWB, check out our Leather Pancake Holster options instead.
BENEFITS
OUTBAGS USA is dedicated to ensuring you can get leather holsters that balance quality and price. Our leather holsters also provide a host of other benefits including a tighter fit for your gun, a warmer, natural feel, and a more comfortable fit. You'll also notice that the leather breaks in much better for your gun and your carry position.
OUTBAGS USA offers military discounts for veterans and current personnel. Contact us today to learn more about our holsters, as well as any special offers.