Glock - G19, G23 with Tactical Light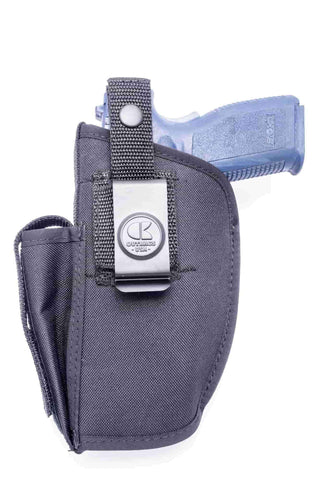 NSC23 · Nylon OWB Holster with Mag Pouch
$ 13.99
$ 13.50
$ 13.99

$ 13.50

$ 13.50

Brand OUTBAGS USA

Enjoy FREE SHIPPING on standard orders! Your satisisfaction is guaranteed with free returns within 30 days of purchase.

Not the right size? Search by gun model to find a well-fitting holser.

More Details →
Get the Most from Your Firearm
Glock pistols offer a great balance of firepower and accuracy. They are also a versatile line of handguns that can be outfitted with tactical lights and other attachments so you can get the most from your firearm in any situation.
OUTBAGS USA helps you get the most from your firearm with well fitting holsters. Our G23 and G19 holsters with light attachment room offer unmatched durability you can truly count on. No matter which style you choose, you'll carry with confidence when you shop with us.
Carry Your Pistol with Pride
When you need a reliable way to carry your G19 with light, holsters from us are a great fit. We utilize tough nylon and other premium materials that provide a firm hold on your weapon. Our holsters also feature a slim design, so they won't shift or dig into you with movement.
Each choice we offer is a holster you'll wear with pride. That is because they are handcrafted right in Southern California for an American-made holster that looks as great as it functions.
Be Prepared in Any Situation
You'll comfortably carry your G19 or G23 with light attachment with holsters from OUTBAGS USA. We've designed options that are well suited for both concealed and open carrying so you'll be prepared in every scenario. Holsters also provide maximum weapon accessibility for varied draw hand preferences so you can always quickly pull out your weapon in critical moments.
Looking for an option to secure a pistol other than Glock's 19 or 23 models? Browse by gun to find the perfect match for your firearm of choice.