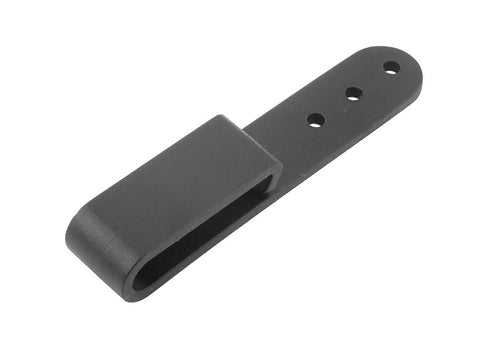 1.5" Nylon Drop
$ 7.50
$ 7.50
Brand OUTBAGS USA
Enjoy FREE SHIPPING on standard orders! Your satisisfaction is guaranteed with free returns within 30 days of purchase.
Not the right size? Search by gun model to find a well-fitting holser.
PREMIUM HOLSTER CLIPS
If you need a way to secure your favorite holster lower on your body, OUTBAGS USA has the perfect solution with our inside-the-waistband drop clip. This 1.5" IWB holster clip is a straightforward way to attach your holster to your belt and keep it secure during concealed carry.
MATERIALS
Made from premium nylon, the OUTBAGS USA IWB holster clip is designed to be a reliable option for a long time. Its simple design means it won't get caught up on your outfit. Whichever style of holster you use with this clip, it will firmly keep your weapon in place. Carry with confidence as this clip will withstand scratching and other marks without losing grip.
CARRY POSITION
This tuckable holster clip is ideal for securing your holster 1.5 inches lower along the belt line, typically at the hip. It will securely hold your weapon in place but is slim enough to easily conceal underneath your shirt. It's generally not a comfort concern, as this clip won't dig into you or add unnecessary bulk to your holster.
ORDER TODAY
OUTBAGS USA is all about premium items at affordable prices, including this IWB holster clip. Learn more about out family craftsmanship, and find the right holster for your gun today.